Sorry with unhappiness of the post before. I was just dealing with the fact that A)I do not have any friends down here and no matter how hard I try I cant seem to find people who want to be my friend, B) even if I did have friends we dont really, responsibly, have the money to do anything, and C) if we were going to be irresponsible and spend money there isnt anything worth spending money on. So I was basically feeling stuck with the only glimmer of change to maybe come would be in December but change may not even come then. I cant say that I am over any of this...this is not the problem I was expecting to have when moving to the beach...I was expecting to have issues getting people to leave since this is one of the nations most popular vacation venues, but I have moved past it for now.

Anyway this post is supposed to be about my diet update. It is also late, couldnt bring myself to do it on Thursday and I ended up pulling a double last night so before I get to work tonight I told myself I had to post it :).



I dont know my total yet...I havent been to Curves in a while. Last week was way to crazy with hours and I completely skipped this week do to exhaustion, lack of food, and wanting a break. I have kept up with gymnastics though :) This coming week is my week off of gymnastics before the Fall session starts and it goes down to one day a week. I kinda new this was coming....I have been the only one in the class for MONTHS now and I am, from a business stand point, surprised they can even justify keeping it a class with just me since Brody (my Coach) usually gets 80 per one hour private session and he is getting $55 for 4 1 hr classes with just me. On a personal side, I know why they are keeping it. I have been with them since October, almost a year, I saw them through when they took over ownership of the plex and I am one of their loyal customers. Next class I am hoping to take some video of me and my coach :)

Anyway, with all this, I still know I lost weight. I am starting to look more and more like my mom in terms of build then I ever have. I still don't think the pictures show it exactly but I have never been this skinny nor did I ever think I could even look like this. I am not done, there are still areas that I want to tone up but I think I look pretty good. I still need to work on getting the right balance of food but that will come with time. What would really help is if my schedule would remain as it is scheduled so we dont have to skip grocery shopping. Last week we had to skip it entirely so we we scrounging for food so it left us needing to go to both Costco AND Lowes Food for groceries this week. We got in Lowes Food but was supposed to go to Costco yesterday but since I had to work a double shift, that didnt happen. The plan is to do it on Tuesday next week. Brian has also bought himself a weight set so he can get into better shape and since he is now fully on board, that should help us out as well.

Man, no wonder they called me the queen of randomness in school, I keep getting side tracked. So I think you will be able to notice some difference but I think alot of it is better noticed in touch. I have become very muscular which isnt showing up very well in pictures. My back just comes out looking fat and my biceps kind of show through but not really. If you were to hug me or place your hands on my shoulders you would definitely feel it. If you were looking at me in person you would notice my legs/calves but I cant get in a good position to photograph that. My abs are starting to show through at the top as well and my lower ab pooch is almost gone.

Okay now for pictures!

The normal bunch: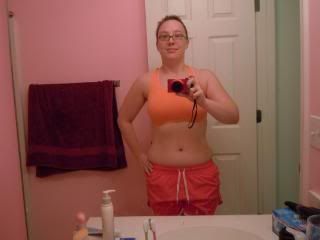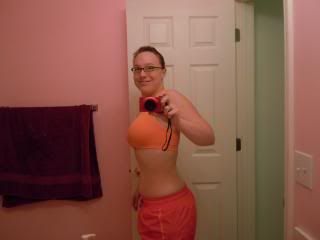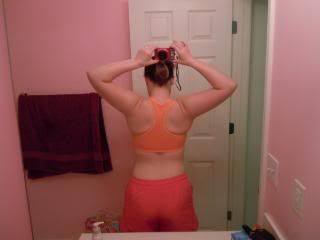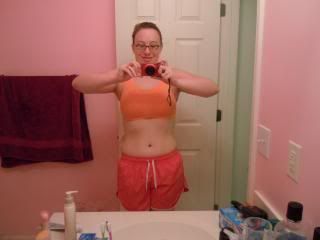 Look Ma no flab!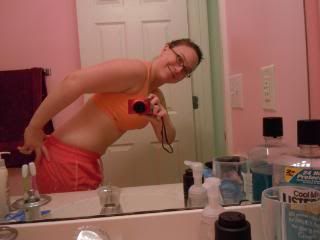 Me in my work clothes. Well my WAY to big work pants and a shirt I have to wear for work as my uniform shirts are all ripped.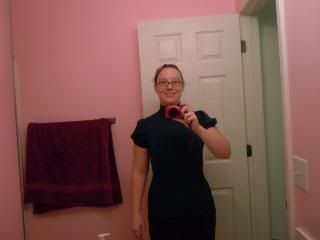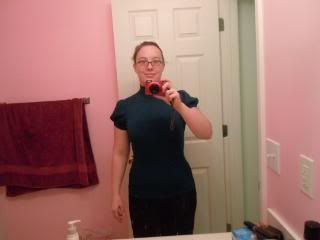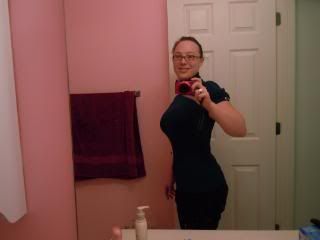 My mommy's legs :) She is really skinny and always had thin legs...I never had them but now I do!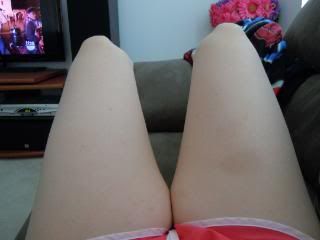 I can make my collar bones stick out and you can even see them with me just resting my shoulders which is pretty cool. My new favorite past time is too see how many new tendons/muscles I can see in my neck with just a turn of the shoulder and/or neck. A sneak peak of what I mean: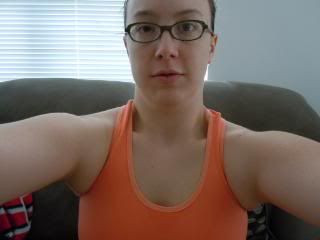 And my biceps: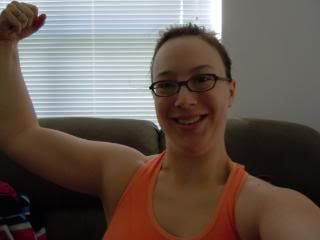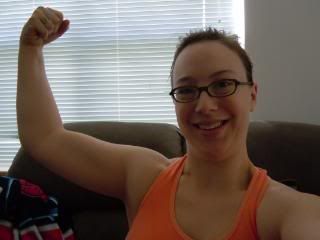 Taking these pictures were pretty interesting. If I smiled the camera would take the picture itself (I am sure I have it set to do that somehow) but if I dont smile it doesnt take the picture. It is pretty cool but also explains some of the smiles. I took a lot of pictures playing around with it...as soon as I smiled snap went the camera :)


Anyway that's about it. One of the homeowners who has become like a second Mom to me is coming to town tonight. She always ends up coming when I need her most. The last time she came I was going through the worst week at work and between her and their new puppy Franklin helped me through it. This time its coming right after I was down from such a hard time dealing with the loneliness. I dont think she knows what she has done for me. Usually I dread Saturdays...tonight I am looking forward to it. She lives in Virginia and if we ever end up in Virginia I hope we end up near her.